Coin Master cheats: Free spins, coins and daily Links
Do you want to know the best Coin Master cheats and how to get free spins and coins? Here, in TrucosCoinMaster.com we tell you the best tricks and we also have the daily links of free spins and coins for the Coin Master.
Daily links to free coins and free spins in Coin Master
We have prepared for you the daily links with free spins that are shared on Coin Master's official Twitter, Facebook and Instagram social profiles.
But checking Coin Master Tricks for daily links is not the only way to achieve free spins and free coins. Let's see the tips and cheats that will help you get more spins and coins.
Coin Master cheats and Tips
Let's take a look at the best Coin Master cheats that we can use to get the most out of our plays in this popular mobile game. Some of these cheats are so interesting that they have their own publication. Let's get down to business.
Don't be greedy
You are always susceptible to a possible raid taking away a large part of the coins you have in your possession. That's why whenever you can make a purchase you should always spend your coins, don't be greedy 😉 . It is especially important if you have run out of shields or haven't unlocked the Rhino pet yet.
Having a large amount of Coins in your piggy bank also makes you a target for Grand Raids. Let's see what a Grand Raid is.
Cheat to send more than 5 cards a day
In the Coin Master game you can share cards with your friends connected on Facebook. This is limited to a maximum of 5 cards per day. However, there are two cheats to be able to send more than 5 Coin Master cards per day.
The first cheat is to change the date on your smartphone. Once you change the date at least 24 hours apart, you will be able to send 5 more cards. You can repeat this trick as many times as you want.
The second cheat is to uninstall the game application and reinstall it again. Once you install the game again you will be able to send 5 more cards. This Coin Master cheat can also be used as many times as you want.
Big Raids
A Big Raid is a maximum bet raid that can end with the raider walking away with millions of Coins.
If you have a large number of spins, you may find it interesting to want to increase your bet amount and enjoy the multi-spin bonus. However, one of the best Coin Master cheats is to save your Spins for when you get a player with a lot of coins.
In the top area of the slot machine you can see the Coin Master you have been assigned and their coin count. Save your bets for the coin-lined Coin Masters.
As the amount of money you win in a round is proportional to the amount of money the other player has, by only using Max Bets with Coin Masters that have a lot of coins, you have the chance to win a lot more very quickly.
Another great Coin Master trick when performing these big raids is to have Foxy as your active pet. This pet will give you another shovel to dig in the raids, so you have a better chance of getting thousands of coins.
Two Finger Raid cheats
Siguiendo con los asaltos, tenemos uno de los trucos Coin Master más conocido: el truco de los dos dedos para sacar el tesoro en el último agujero del asalto a la villa de otro jugador.
Continuing with the raids, we have one of the best known Coin Master cheats: the two-finger cheat to dig out the treasure in the last hole of the raid on another player's village.
When you have already opened two reward holes, the trick to also hit the last hole is to place two fingers on the two remaining options. Then touch both holes at the same time and hold for a second. The hole with the last reward will open. Be careful not to tap too slowly, otherwise this cheat won't work.
Buy chests in each village
Individual cards do not offer any bonus, but finishing a collection of cards does. You should always buy as many chests as you can afford when entering a new village.
In each village there are different lower level cards, gold cards and rare cards. These cards become harder to get as you level up in the villages, so the early stages are the best for getting the lower level Cards needed to finish a Collection.
There's nothing more infuriating than wasting a Joker just to replace the missing Common Card you could have gotten when you first started playing. Another Coin master cheat related to this is known as boom villages, which are villages or levels that have more rewards and rare cards, so it's worth spending more time in them.
Don't waste your pet when you activate it
The power-up effect of your coin master pet is only available for 4 hours after you have activated it. If you are not going to play for the next four hours, you should save the activation of your pet until you have four hours to devote to the Coin Master.
This applies even to the defensive Rhino. When your village is under attack, it will not defend attacks unless you specifically send it to do so.
Here's a little bonus cheat: All players can activate a pet for free for 15 minutes every 24 hours. If you only have a few minutes to play, use this.
Other Coin Master cheats
There are other coin master tricks to which we have dedicated a separate publication. These are:
Obtaining a Coin Master VIP account
Having two coin master accounts
You can find more tips and cheats on our Coin Master Blog.
Coin Master tips for getting free spins and coins
Invite your Facebook friends
If you invite a friend to play via Facebook, you can get 40 free spins. Your friend has to accept your invitation, install the game and link their Facebook account. If you have a lot of friends you can add up a lot of spins quickly.
Get free gifts with your friends
After you have invited all your friends and they have joined, then you and your friends can give each other free spins and free coins every day without losing any personal spins. In total you can receive and send a maximum of 100 spins.
Waiting is rewarded
If you wait you get a prize. For every hour that passes you get 5 free spins for a total of 50 spins. That means that we have here one of the first Coin Master cheats: you must wait a maximum of ten hours if you want to get the most out of this type of free spins.
What is Coin Master?
Fuse a base-building strategy game with the thrill of a slot machine and you have the Coin Master.
This game couldn't be simpler: one spin on the slot machine to perform an action. You can win Coins, attack or raid other players' villages, or get shields to protect you from enemy attacks. You then use the money earned to build and also upgrade your village.
Coin Master is a very simple game, so it shouldn't take you too long to get the hang of it and start playing. Follow along with us in this complete guide to Coin Master Cheats, including hints and tips on how to speed up your village building and keep your coin stash safe from other players.
The basics
The game of Coin Master starts with a short tutorial that introduces you to the basic gameplay, and then gives you the freedom to start playing the game as you wish. Although it's quite a lot to get you started, here we'll look at some Coin Master cheats that the tutorial doesn't explain.
Coin Master is all about earning and spending money. There are 3 main ways to win Coins in Coin Master, apart from spending real money to do so:
Winning Coins with the slot machine.
Attacking another player's village
Raiding another player's village
To perform one of these actions, you must perform a spin on the slot machine.
The slot machine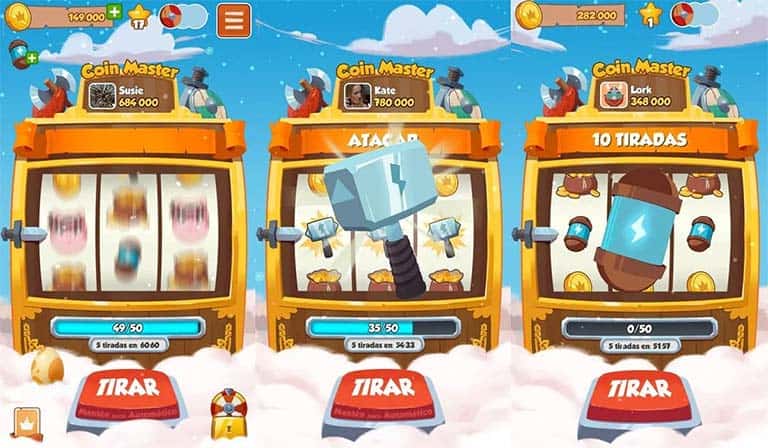 The slot machine is the centre of the game, and you will spend much of your playing time on this screen. You can reach the slot machine by going through the menu and selecting it or by accessing it from the village view.
Below the slot machine, you will see the current number of spins available. Each time you play the machine, this number is reduced by one. When you run out of spins, it's your turn to wait for them to reset.
The Coin Master slot has 3 reels with 4 different symbols. If you manage to get 3 of the same symbols in a row, you immediately perform that action. The four symbols that the slot machine has are:
| SYMBOL | PRIZE |
| --- | --- |
| Coin Bag | More coins |
| Hammer | Attack on a random village |
| Bandit Pig | Assault on the assigned Coin Master |
| Shield | Protection for your village |
| Energy | Capsule 10 free spins |
The Coin Bag
The Coin Bag, as the name suggests, gives you coins. Unlike the other figures, you don't need a whole row of them to win the prize. Each Coin Bag you get after a Spin gives you a bonus, but if you get a full row it gives you a bigger prize than 3 individual Coin Bags.
The Hammer – Attack
Collect a full row of hammers (the game's story tells that this is Thor's Hammer) and you can raid another player's village. If you have linked your Facebook profile to Coin Master, it allows you to select a friend to attack. If you have not linked your account, the game will randomly assign a player.
You will appear in the other player's village and then you will have to choose which building to attack. When you attack a building it loses star level and you will receive a few coins as a reward.
The Bandit Pig – Assault
The Bandit Pig is an image of a laughing pig wearing a thief's mask. If you get 3 of these in a row, you immediately make an assault.
In this case you cannot select the target of your attack. Above the slot machine is the picture and name of your Coin Master, the player who has been assigned as the target of your raid.
When an attack begins, you are taken to the Coin Master's villa. But instead of attacking his buildings, you are given three shovels to dig holes. There are several places in the village marked with X's where you can choose to dig.
Choose three places where you are going to dig, in one of them you are sure to find a good amount of coins. This coin is taken directly from the injured player's coin stash.
The Shield – Protection
The shield is used to defend your village from attacks by enemy players. When you have a shield you can protect your building from enemy attack by preventing it from losing star level. You can add up to 3 shields, which means protection for 3 rounds.
The same happens when you attack the village of a player who has a protective shield. You earn 50,000 coins but the other player's property will not be damaged and will not lose its star level.
We at Coin Master Cheats feel it is important to make it clear that the shield does not serve as protection in raids.
Bets
If you have accumulated a large number of rolls, you can place bets. When you increase your Bet, each Slot Machine Spin spends multiple Spins but also increases your chances of winning more rewards. Bets multiply the prize you win with Slot Machine Spins.
Village construction
The village building serves as a level in the Coin Master. There are five buildings that you must construct in each level. You must upgrade all buildings in your current village to a 5-star level to pass the level and progress to the next village.
Upgrading each building costs coins, and upgrades cost more money the further you progress in the game. Buildings have no special effect or function other than to indicate your progress to the next level.
As of 05/2023 there are 495 villages in the Coin Master game, each with a unique theme. Here you can see the list of villages on the official website.
Revenge
The revenge mechanic allows you to take revenge on a player who has attacked your village. If your base has been successfully attacked by another player, you have a chance to take the attack back.
Simply play a roll on the slot machine. If you get a row of hammers, you will go to the screen where the Attack on a random village takes place. At the top of your screen you may see the option to choose Revenge.
Select this option and Coin Master will display the players who have recently attacked you. Choose one and you will be taken to that person's village where you can attack back.
Cards
Cards are obtained through chests, which are purchased with money. There are different collections of themed cards, and each set consists of 9 cards. Collect all 9 cards from the same set and you will get a reward in the form of bonuses, a large amount of coins, free spins or even pets.
The Coin Master game offers 3 different types of chests to buy. The more you pay for the chest, the more rewards in the form of cards it will bring. The current level of your village will determine the quality of the cards you will find in the chest.
When your village reaches the highest levels, you can also get special Golden Cards in the chests you open. Gold Cards are special versions of other cards, and the associated Collections provide greater rewards for completing them.
One of the most interesting features of Coin Master is its card trading system. You can send up to 5 Cards to your friends every day, so it may be a good idea to sign up for Coin Master communities and forums.
Many of these communities have sections dedicated to card trading where you can make deals with other Coin Master players.
Chests
Chests can be purchased from the Coin Master's shop. In any of the chests you can find cards up to five stars, however the higher priced chests are more likely to contain higher quality cards.
Higher level chests are also less likely to contain lower level cards. So if you're looking for a particular 1, 2 or 3 star card to finish off a card collection, you'll want to spend your money on the lower tier chests.
You can also receive Pet Snacks, Pet XP or extra rolls from the chests. These are added to your inventory on top of the Cards you receive, so they do not affect the Card drop odds.
Chest Card Odds
Depending on the chest you are opening, you have a higher chance of drawing a specific card rarity. Only the Mystery Chests, Ruby and Valentine have a chance of drawing a card from the Joker, the rest do not.
From village 3 onwards, golden, magic and wooden chests are available.
The Small Lucky Chest will be available from Village 4.
The Small Easter Chest in Village 10.
The Big Easter Chest and the Emerald Chest in Villa 20.
The Lucky Chest and the Valentine's Chest in Villa 30.
After Villa 70 the Sapphire Chest.
The Ruby Chest in Villa 110.
Here you can see the official odds according to Coin Master's developer, MoonActive:
The Jocker Card
The Joker Card is a very rare card that can only be won by opening Mystery Chests or participating in Coin Master's own events.
The Joker Card has the ability to transform into any other card you want, including Gold Cards. Note that Joker Cards have a set time limit, so don't let them expire.
Pets
Pets join your cause in raids and attacks, and offer great rewards to motivate your journey to becoming a Coin Master.
Pets are activated when you access the pet panel in the menu or in the egg underneath the slot machine.
Once activated, your pet will give you its bonus for the next four hours. Once those four hours have passed, your pet will go to sleep and you will not be able to use it again for a while.
You can shorten the dormancy period by feeding your pet treats. You can spend real money to get food immediately or take a spin around the slot machine to see if you can get a treat. Prizes are given out along with the typical rewards you earn from the result of your spin.
The powers provided to pets can be multiplied with XP Potions that increase their level. As with the treats, XP Potions also have a chance to drop with each spin on the slot machine.
Tiger
Increases the amount of money you win when you attack another player. The higher the level of Tiger, the higher the amount of money.
Rhino
Unlocked when you complete the Creature Card Collection. Rhino can block opponent's attacks, just like a shield does. Leveling up with XP Potions improves Rhino's chances of successfully defending against an Attack. At base level, it has a 10% chance of parrying an enemy attack.
Foxy
When you start playing Coin Master the first pet that can be unlocked is Foxy, in the level 4 village. Foxy offers an extra shovel in raids, which means there is an extra chance of finding a chest.
Frequently asked questions about Coin Master Cheats
How do you get free spins in Coin Master?
By visiting Coin Master Cheats. Every day we publish new links to get free spins and free coins as soon as they become available.
How many levels does the Coin Master have?
Right now there are 495 villages (levels) that you can play.
What do the stars in Coin Master mean?
The stars indicate your level and that of other players. You can get more stars by building and upgrading your village and by collecting cards.
What are the cards used for in Coin Master?
Collect cards in order to finish a set consisting of 9 cards on the same theme. Each time you finish a collection you receive draws and gifts.
We hope from Coin Master Cheats to help you get the most out of this fun game. If so, you can help us by sharing our website on your social networks 😉 Thanks!